tryhopinow
5 Day Trial for just 5 Dirham!

GET 20% OFF 2
CASES TODAY

⭐⭐⭐⭐⭐ 500+ 5-Star Reviews
HIGH-QUALITY DISPOSABLE CONTACT LENSES, THAT DON'T COST A FORTUNE
FOR A LIMITED TIME, GET OUR 5 DAY TRIAL FOR JUST 5 DIRHAM
WE WILL SEND YOU 10 LENSES & IT ONLY COSTS 5 DIRHAM!!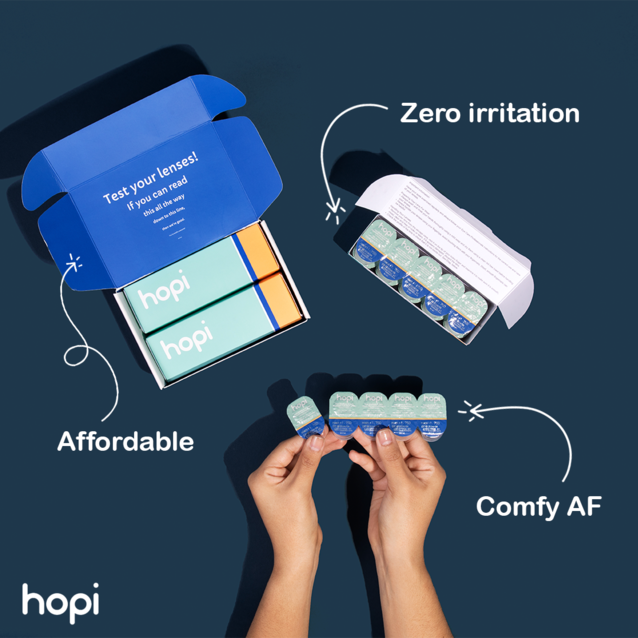 PLANT-BASED DRINK FOR WHOLE BODY HEALTH.
TRY OUR LEMON LIME AND WATERMELON FLAVORS FOR 20% OFF
BUY NOW
HIGH QUALITY
Our lenses are the exact same specs as Acuvue Moist, just in a colourful box and not really expensive. 58% moisture content, UV protection allowing you to wear them for 12 hours plus every day with ZERO irritation
AFFORDABLE
Traditionally, contact lenses are stupidly expensive but they really don't have to be! Our direct-to-consumer model means we can sell high-quality lenses are affordable prices. Saving you money every month
CONVENIENT
After the trial, we'll ship you lenses every 28 days. No more last minute dashes to the mall before work to grab a box. Sit back and relax
If the lenses are not for you, you can cancel by emailing us at subscriptions@behopi.com within 5 days of your trial order
Join 1000's of contact lens wearers in the UAE who have already made the switch to Hopi
We'll send you 5 pairs of lenses for you to try before your monthly subscription starts
After your trial, we'll ship you 2 boxes of 30 lenses every month
Our 5-day trial is part of our monthly subscription. Usual subscription price per box of 30 lenses is AED 90.
If the lenses are not for you, you can cancel by emailing us at subscriptions@behopi.com within 5 days of your trial order
Sophie Collins
Great contacts
"I have previously wore monthly lenses and had a lot of issues with dry eyes, Hopi lenses are really affordable and a lot more gentle on my eyes! Very happy with the delivery time also"
shakeeb ahamed
So so comfortable!!
"I barely wore contacts before so these were the first lenses I purchased in over 5 years, they are super comfortable and very easy to wear. they don't irritate my sensitive eyes either! Love them! Hope they come out with other colors."
TRY HOPI NOW
After trying numerous types of lenses over the years, Hopi daily lenses are by far the easiest and most durable I have ever used. Compared to problems with J&J or Focus Dailies, I have not had any issues over the past 12 months using them. Fantastic price for a superb product
I'm so happy that I found Hopi. They are so comfortable compared to other brands. Much cheaper and I love that they get delivered every month so that I don't have to think about it. Customer service is great! They respond after a few minutes and you can edit your delivery dates, prescription etc. I'm so happy I found them!
I've been a contact lens user for many years and when I tried Hopi I was surprised with it's soft, non irritating, non-drying and so comfortable contact lens I've ever used! Another best things is their so accommodating friendly service! Highly Recommended
SELECT PRESCRIPTION