High quality daily disposable contact lenses, that don't cost a fortune!
FOR A LIMITED TIME, GET 2 BOXES FOR AED 100
BUY NOW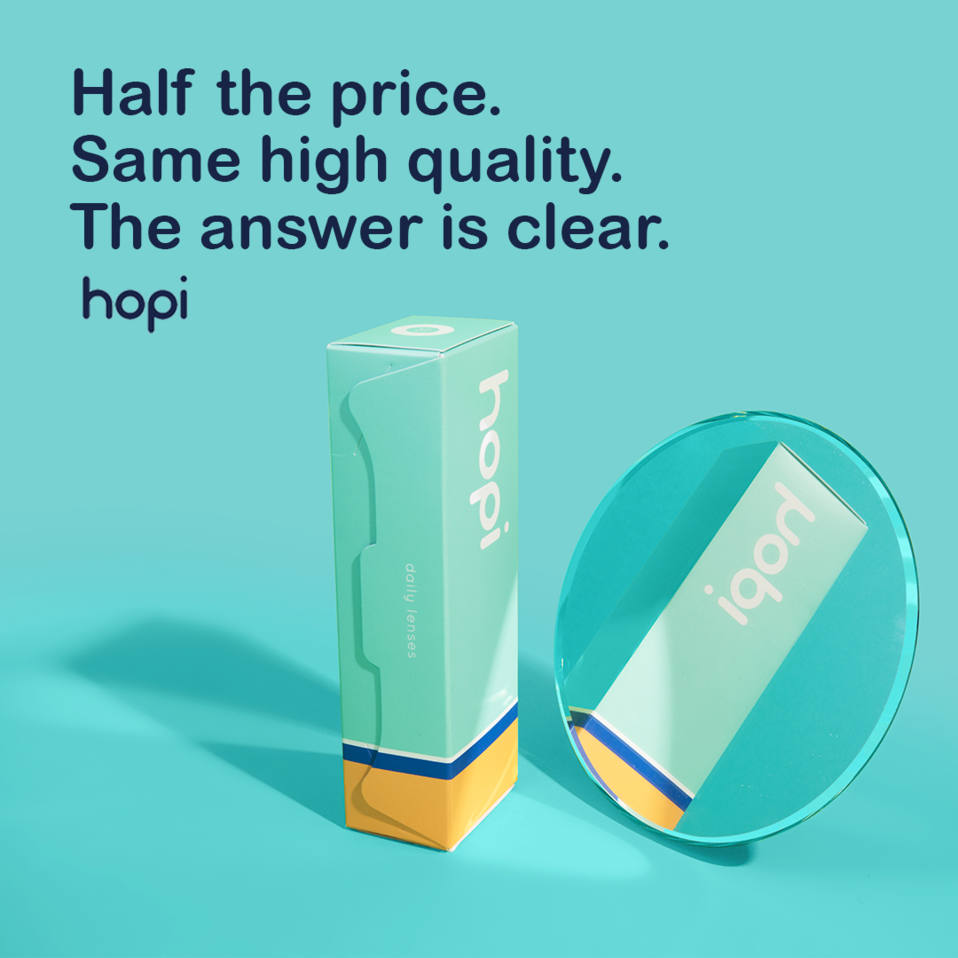 Our lenses are the exact same specs as Acuvue Moist, just in a colourful box and not really expensive. 58% moisture content, UV protection allowing you to wear them for 12 hours plus every day with ZERO irritation
Traditionally, contact lenses are stupidly expensive but they really don't have to be! Our direct to consumer model means we can sell high quality lenses are affordable prices. Saving you money every month
We ship your lenses to you every 28 days so you'll never run out of lenses again! No more last minute dashes to the mall before work to grab a box. Sit back and relax
LEARN MORE
30 Lenses per box
58% Water Content* * UV Protection *All day long comfort
Join 1000's of contact lens wearers in the UAE who have already made the switch to Hopi
Designed for optimum comfort and moisture. Each lens is made from ultra-breathable Etafilcon A with a high water content of 58%
Prescription Range from +2.00 to -12.00
2 boxes of 30 Lenses - giving you 30 pairs
FREE Next Day Delivery
30 Lenses per box
58% Water Content * UV Protection * Comfy AF *
SELECT YOUR PRESCRIPTION
rhodiola, shiitake and cordyceps
Decrease stress and fatigue, increases stamina and boosts your immune system
helps muscle strength and recovery, fights inflammation, helps regulate your immune system
BOOSTS ENDURANCE AND ENERGY PRODUCTION, improves brain function, supports cellular health
hELPS WITH BODY REGULATION, MOOD, AND METABOLISM
Hopi lenses have tapered smooth edges that enable low-foreign body sensation when blinking
Hopi lenses have Class 2 classification, they block 83% UV-A and 97% UV-B Rays
High oxygen transmissibilty and high moisture content mean you can wear our lenses for longer, without the stress of irritated eyes
Daily lenses are by far the most hygienic choice when compared to longer-wear options
We are on a mission to empower everybody to perform at their best everyday.
Barcode is a way of life. We believe that stellar performances are made through everyday actions, and that true health means being sound of body and mind. This philosophy drove us in the development of our functional beverages for everyday performance. Entirely plant-based and powered by adaptogens, Barcode works with your natural systems to keep your entire self at full potential.
Barcode is developed by the experts, vetted by the pros — but made for everybody to enjoy, every single day. We're building a vibrant community of game-changers, culturemakers, and everyday performers, creating the future of whole-body health, together.
I've been a contact lens user for many years and when I tried Hopi I was surprised with it's soft, non irritating, non-drying and so comfortable contact lens I've ever used! Another best things is their so accommodating friendly service! Highly Recommended
The best lenses I've ever tried! They're comfortable and easy to wear. I even got my mum to try Hopi too and she loved them. Not only are the lenses very good, but their customer service is the best. I would recommend it to my other friends too cause I'm confident they won't regret it
After trying numerous types of lenses over the years, Hopi daily lenses are by far the easiest and most durable I have ever used. Compared to problems with J&J or Focus Dailies, I have not had any issues over the past 12 months using them. Fantastic price for a superb product
I'm so happy that I found Hopi. They are so comfortable compared to other brands. Much cheaper and I love that they get delivered every month so that I don't have to think about it. Customer service is great! They respond after a few minutes and you can edit your delivery dates, prescription etc. I'm so happy I found them!
BUY NOW
FOLLOW US AT @HOPICONTACTS
TERMS & CONDITIONS | PRIVACY POLICY